Last week, Dana shared with you her essential reading list. Of course, I couldn't resist doing likewise! Before I do, maybe I should tell you a little about my obsession!
I confess it openly: I am a bibliophile! I love books. I don't just love reading them. I love collecting them, too! I love the feel of them in my hand–the weight of knowledge and authority. I love the creases that form in the spine of a paperback–the trophy of accomplishment that you get when you've read every page. I love the smell of a used bookstore, where every volume–like a hungry orphan–reaches with outstretched arms for you to pick it up, take it home, and love it once more!
In short, books to me are more than just paper, glue, and ink. They are gateways to other worlds, or times. Perhaps this accounts for why I spend most of my "mad money" on purchasing them. My personal library–acquired over many years of higher education and personal study–now runs to somewhere around two-thousand volumes!
Some people buy fancy cars, or stylish clothes….I buy books.
How did this obsession begin? Some of you may remember the late 1980s and early 1990s television show Reading Rainbow. You know, the one hosted by Gordy LaForge from Star Trek: The Next Generation? Well, the opening song began with the lyrics, "butterfly in the sky, I can go twice as high…"
And you know what? I really believed that with a book, I could do that!
I started in the early 1990s by reading children's books on the Titanic that my Uncle Joe rented from the local library just for me! As you know from a previous post, this subject became a sort of obsession for me…especially when the James Cameron film hit theaters in 1997.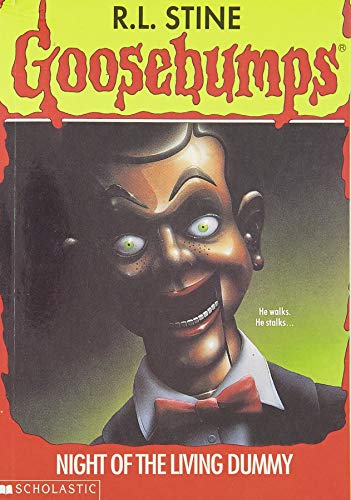 Then in grade school it was R. L. Stein's Goosebumps. A new one came out every month, and the scholastic book orders would always highlight it on the first page of their monthly order form! My favorite was Night of the Living Dummy.
Then when Stephen Spielberg's adaptation of Jurassic Park came out, it was on to Michael Creighton's novels–my favorite is Sphere. Similarly, when Interview with the Vampire and Bram Stoker's Dracula were shown on HBO (I wasn't old enough to go to an R-rated movie in the theater), I had my mother rush me to the local used bookstore to pick up copies!
Today, I mainly spend my money on non-fiction, but I still occasionally dabble in a little fiction. For instance, in the last year I finished reading all of Anne Rice's Vampire Chronicles. My favorite was The Vampire Lestat.
I like to consider myself a professional student. I loved learning in grade school, high school, and especially college, and I expect that I will continue to have an insatiable appetite for learning until the day I "shuffle off this mortal coil"….that's a Shakespeare reference…I'll let you look up which play it's from.
In that vein, I suppose I resemble Thomas Jefferson, our third president, who once wrote in a letter to a friend that he could do without most luxuries of life, but he could not "live without books."
Yes, it true–I just put myself in the same group as Gordy LaForge, William Shakespeare, and Thomas Jefferson. No, I don't have delusions of grandeur. I do, however, believe that reading can make you as great as these men.
By now, if you are still with me, you probably get my appreciation for reading. So, without further ado, I can get to my reading list!
Being a historian, it should come as no surprise that I will have a lot of nonfiction on it. Every one of them I have personally read. Every one of them I highly recommend. Some are more enjoyable than others, but all are important!
Dr. Neels' Reading List:
Nonfiction:
Thomas Jefferson: The Art of Power by Jon Meacham
George Washington by Ron Chernow
In the Heart of the Sea by Nathaniel
Philbrick
Confederates in the Attic by Tony Horwitz
The Man Who Saved the Union: Ulysses S.
Grant in War and Peace by H. W. Brands
With Malice Toward None: A Life of Abraham Lincoln by
Stephen Oates
Will in the World: How Shakespeare Became Shakespeare by
Stephen Greenblatt
A Night to Remember by Walter Lord
The Guns of August by Barbara Tuchman
41: A Portrait of My Father by George W. Bush
Desperate Hours: The Epic Rescue of the Andrea Doria by
Richard Goldstein
Dead Wake: The Last Crossing of the Lusitania by Erik Larson
The Book of Matt: Hidden Truths About the Murder of
Matthew Shepard by Stephen Jimenez
The Oregon Trail: A New American Journey by Rinker Buck
All the President's Men by Bob Woodward
Flags of Our Fathers by James Bradley
Twelve Years a Slave by Solomon
Northup
John Adams by David McCullough
Lincoln and the First Shot by Richard
Current
A People's History of the United States by Howard Zinn
Fiction:
The Once and Future King by T. H. White
Les Miserables by Victor Hugo
A Christmas Carol by Charles Dickens
The Adventures of Huckleberry Finn by Mark Twain
The Wonderful Wizard of Oz by L. Frank Baum
The Murder of Roger Ackroyd by Agatha Christie
And Then There Were None by Agatha Christie
Dracula by Bram Stoker
Casino Royale by Ian Fleming
Lamb: The Gospel According to Biff,
Christ's Childhood Pal
by Christopher Moore
The Book Thief by Markus Zusak
Harry Potter and the Sorcerer's Stone by J. K. Rawling
Frankenstein by Mary Shelley
Salem's Lot by Stephen King
Interview with the Vampire by Anne Rice
1984 by George Orwell
The Haunting of Hill House by Shirley Jackson
So there you have it! A reading list fit for a bibliophile! Of course there are hundreds more that I could have added! Happy Reading!
— m.a.n.